Jack Petchey Foundation
Jack Petchey Speak Out Challenge! Richmond Regional Champion!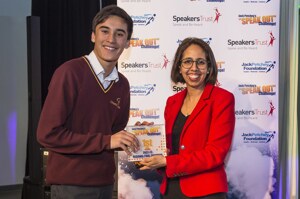 Orleans Park regularly takes part in the Jack Petchey Speak Out Challenge. All Year 10 students take part in an expert-led workshop, with students delivering a speech they have created from scratch, to their classmates and a small panel of judges. Students are then selected to represent the school at a regional final.
Congratulations to Alex who became the Richmond Regional Champion in March 2023. He will go forward to the Semi-final, with the opportunity of appearing at the Grand Final, competing against other regional winners across London and Essex.
---
About the Foundation
The Jack Petchey Foundation was set up to inspire and motivate young people across London and Essex by providing exciting projects and programmes for them to get involved in. They recognise the outstanding achievements of today's young people by awarding them for their hard work and positive impact in their community.
---
Who is Jack Petchey?
Born in Plaistow, east London, Petchey, 93, left school at 13. He served in the navy in the Second World War and set up a taxi business with his first car in 1948. He got married in 1949 to Diane Harrison, and they had four children: Jackie, Susan, John and Amanda. He moved into car sales, then started a property business in 1954. He is now worth £550m. In 1999, he set up the Jack Petchey Foundation, which has donated more than £110m to help young people. In 2016, he was knighted and married the sculptor Frances Segelman, they still live in east London.
Petchey was appointed Officer of the Order of the British Empire (OBE) in 2004 and Commander of the Order of the British Empire (CBE) in the 2011 Birthday Honours for charitable services. He was knighted in the 2016 New Year Honours for services to young people in East London and Essex through the Jack Petchey Foundation. On 27 May 2010, he was given the Freedom of the Borough of Newham. He has also been made a Honorary Commodore in the Sea Cadet Corps.
---
What does it involve?
The Jack Petchey Achievement Award Scheme recognises outstanding young people aged 11-25 across London and Essex
The Jack Petchey Foundation's flagship programme is its Achievement Award scheme – a reward and recognition initiative which enables schools and youth organisations to celebrate the achievements of their young people as well as receive additional funding.
Jack Petchey Achievement Award winners are young people who have gone above and beyond to achieve – perhaps when others thought they might fail. Awards mean different things to different people. The Achievement Awards are not solely for academic achievement – they may be used to recognise a personal triumph for someone who has faced a challenge, a young person who has pushed themselves outside their comfort zone, or it may be an opportunity to recognise the outstanding efforts of a team player.
A young person is nominated by their peers in their school or youth organisation. An important part of the scheme is the involvement of young people in selecting the award winners for their hard work and efforts. We want young people to recognise and celebrate the success of their peers. Each award winner will receive a certificate, pin badge and a book from Sir Jack himself. They will also choose how to spend a £250 grant to benefit their school or organisation. All award winners are invited to attend one of the fun ceremonies, to be presented with a medallion in front of their families, friends and VIPs.
---
Want to know more?
If you would like to know more about the scheme at Orleans Park, please contact Mr Jenkins, who is our Jack Petchey Co-Ordinator at gjenkins@orleanspark.school