Student Leadership

At Orleans Park we provide students with opportunities to take on various leadership roles throughout their time at the school, allowing them to develop important skills and contribute to the development of the school. The leadership opportunities for students include the following:
Head Students and Deputy Head Students (Year 13)
Student Committee for Change
House Captains
Student Ambassadors
Mentors
Reading buddies
Joining a student group
Organising a charity event.
---
How it Works
Our Student Leadership Team is made up of Year 13 students who act as voice for the student community, help run student activities and represent the school at various events. Older students are expected to be role models for younger students in the school and to support them in their learning and wider development.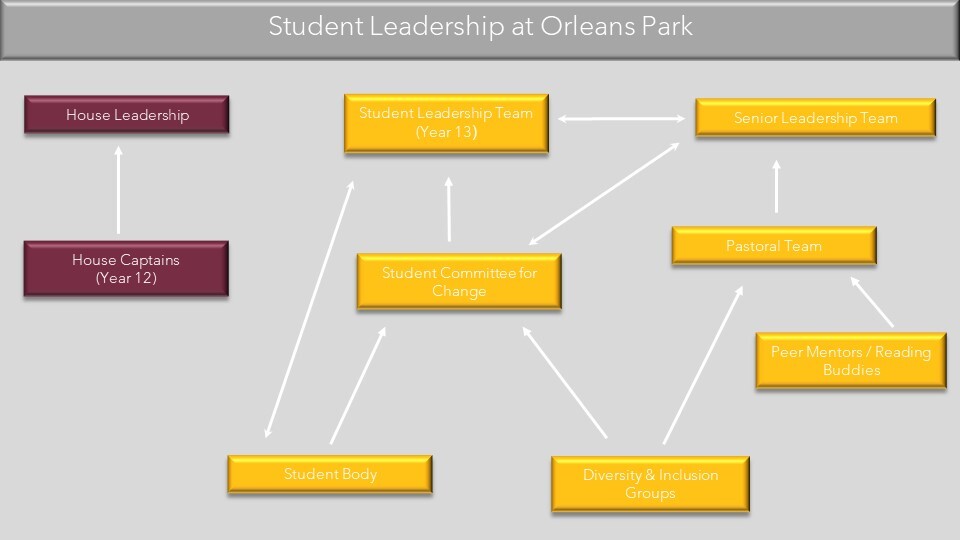 ---
Head Students

Charlotte, Year 13
As Head Student, I am thoroughly excited to work alongside my fellow Student Leaders in helping to sustain the supportive and caring environment here at Orleans Park. Striving to engage and communicate with many younger pupils, I will do my best to encourage my peers to be the best they can be! I look forward to endeavouring on many projects, both in school and the greater community, grasping as many opportunities as I can to further our existing eco-friendly attitude, support network and extra-curricular activities.
I truly hope to be a friendly face that students of all ages can come to for either academic advice or simply if they just want a chat. I am so grateful that I will be able to connect with other students and listen to their personal perspectives on how to better the school in the future.

Daisy, Year 13
I am very proud to have been selected as Head Student of Orleans Park. In this role I want to help make the school a welcoming and supportive place. This year, I hope to be able to implement some student led changes around the school and make it an even more positive learning environment.
As the bridge between staff and students I hope to be able to encourage everyone to feel that their opinion matters, whether that be through leading on recycling issues, mentoring students who struggle with the school environment or helping to represent our school to the wider community.
---
Contact Us
To contact the Student Leadership Team, click on the link below.